At BARE, all our items are blended with 100% real ingredients. Every food we use is either a fruit, vegetable, seed or a nut and they all come straight from the earth with no additives, preservatives or chemicals.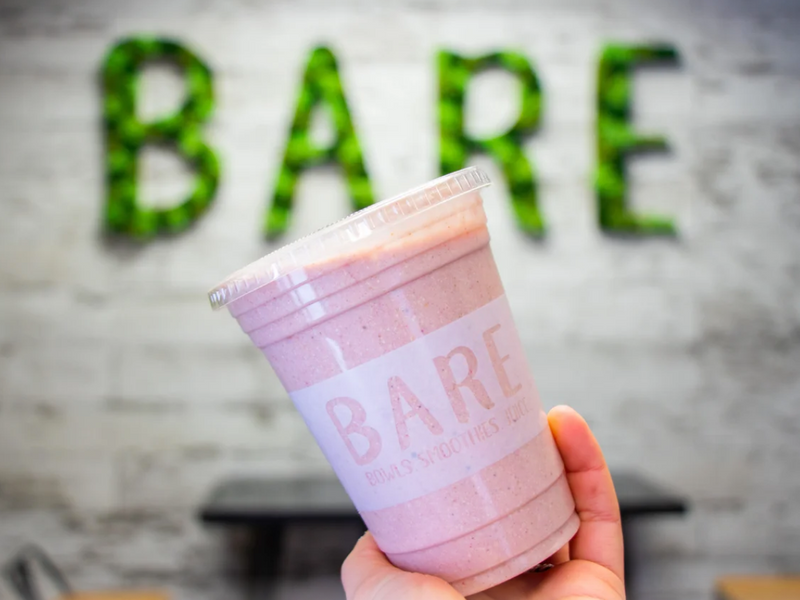 Smoothies
5 GRAMS OF FAT OR LESS
Boost Blend, Green Dream, Purple Haze, Ruby Refresher, Sweet Ginger, Sweet Shanti, Tequila-less Sunrise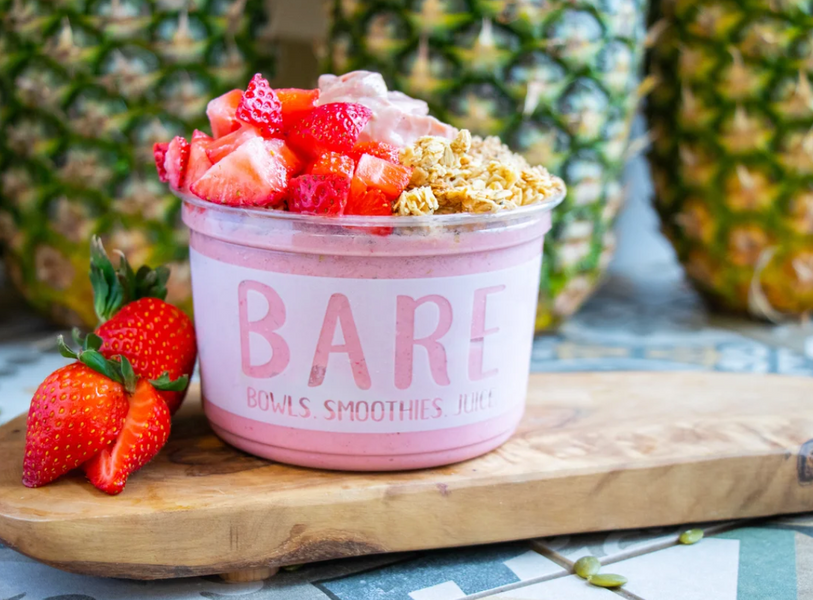 Bowls
22 GRAMS OF FAT OR LESS
Beach Bum, Blue Lagoon, Chunky Monkey, Creamsicle Crush, Emerald Envy, Green Dream, Green Machine, Mocha Latte, Pina Colada, Pretty In Pink, Ripe Ruby, Sunset Savasana, Sweet Gigi.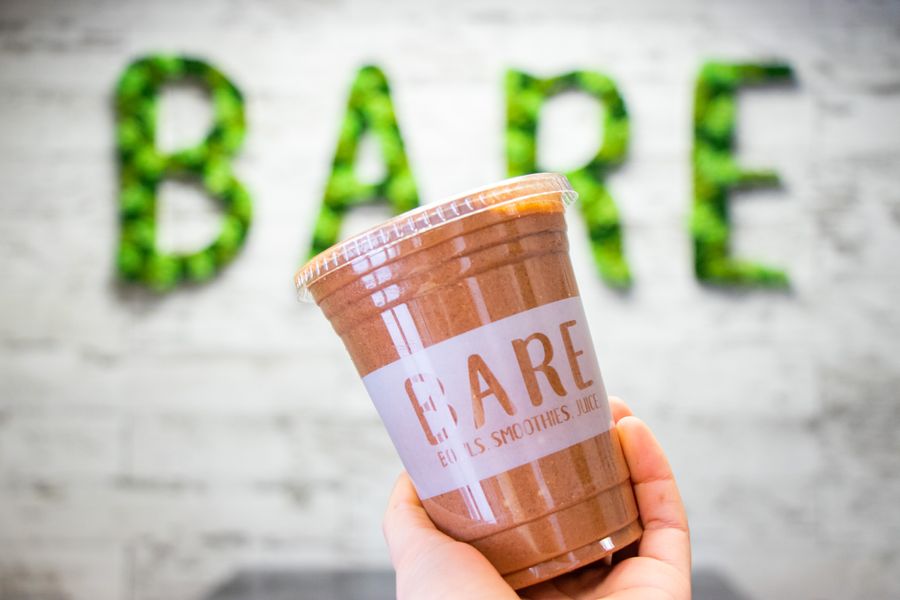 Smoothies
MORE THAN 20 GRAMS OF PROTEIN
California Cleanse, Chaga Chip, Chai Spice, Cloud 9, Hazel Daze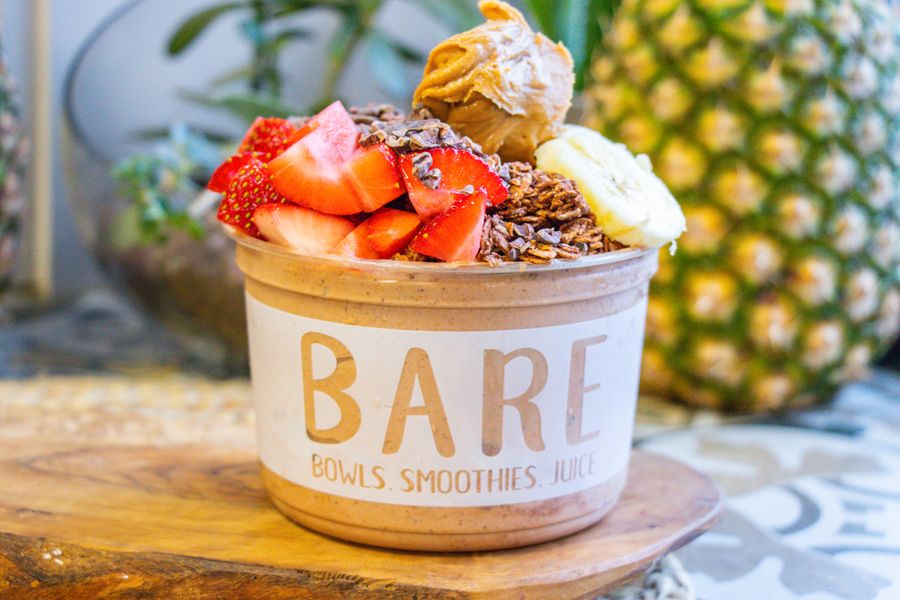 Bowls
MORE THAN 30 GRAMS OF PROTEIN
Build Me Up PB Cup, Blueberry Lemon Cake, Chunky Monkey, Coffee Cake, Hazelnut Coffee Crush, Sweet Gigi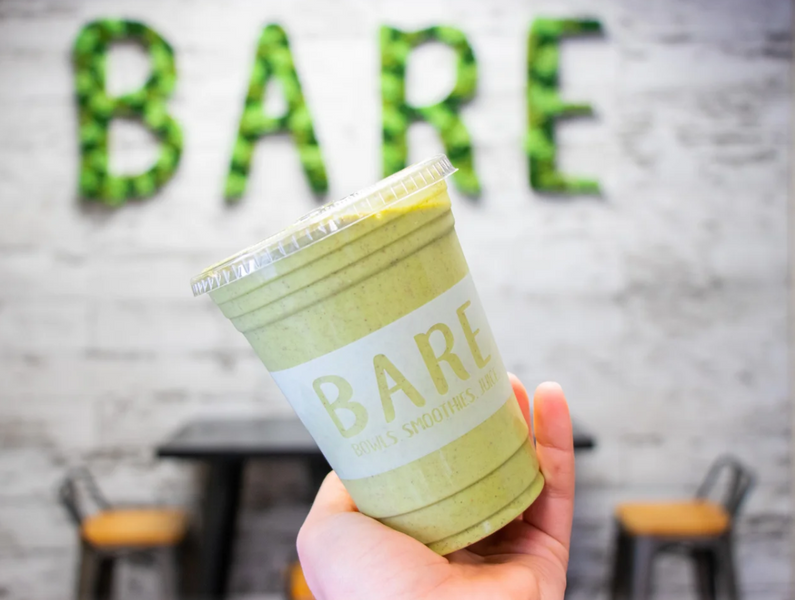 Smoothies
LESS THAN 300 CALORIES
Berry Restore, Blueberry Muffin, Boost Blend, Green Dream, Harry's PBJ, Popeye's Revive, Purple Haze, Ruby Refresher, Sweet Ginger, Sweet Shanti, Tequila-less Sunrise, Tree Hugger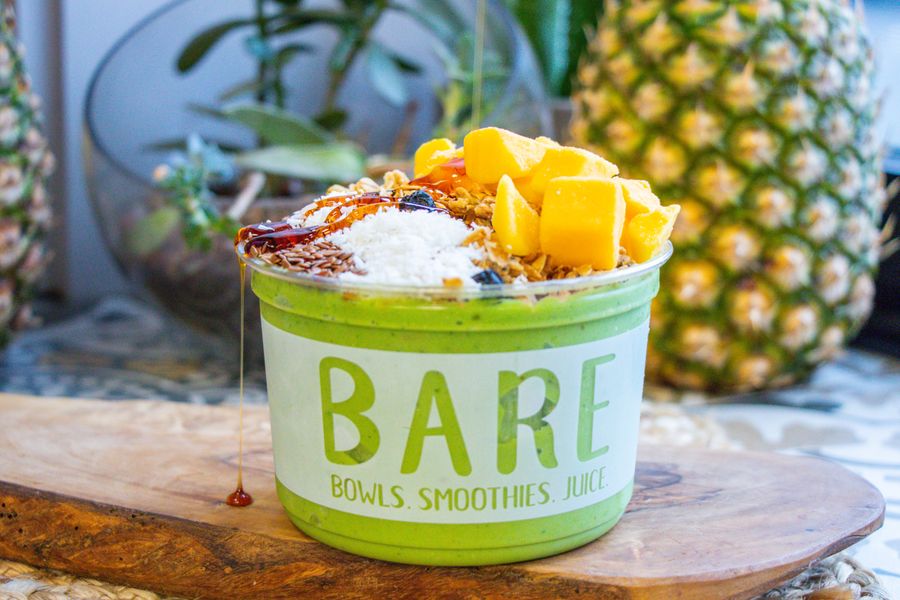 Bowls
LESS THAN 500 CALORIES
Acai Overload, Blue Lagoon, Creamsicle Crush, Mocha Latte, Pina Colada, Pretty In Pink, Sunset Savasana, Veggie Revive, Very Berry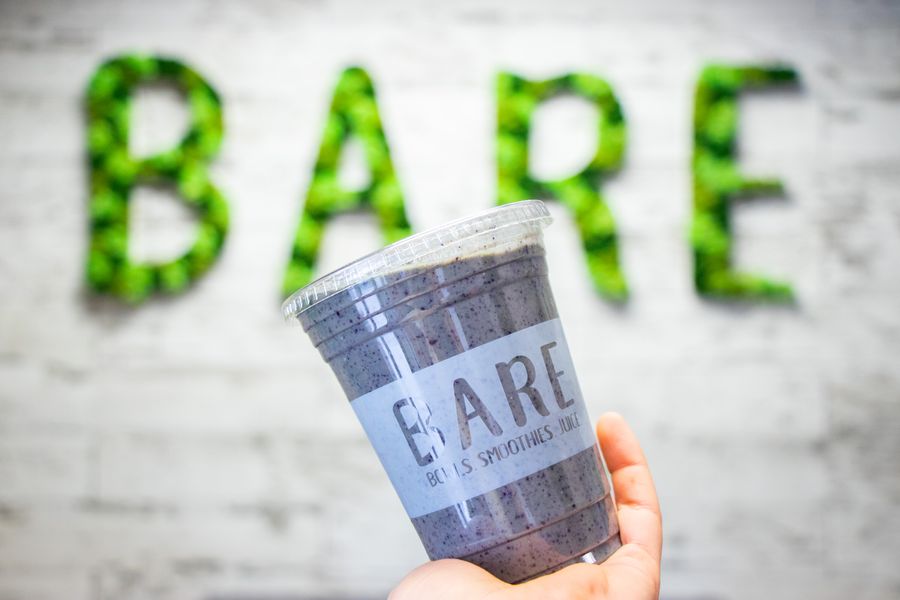 before
Burberry Muffin- Carbs from the oats and banana provide long lasting energy.

The Bala- Carbs from the pineapple and dates give you quick absorbed energy. Can be enjoyed right before your workout or 2-3 hours before.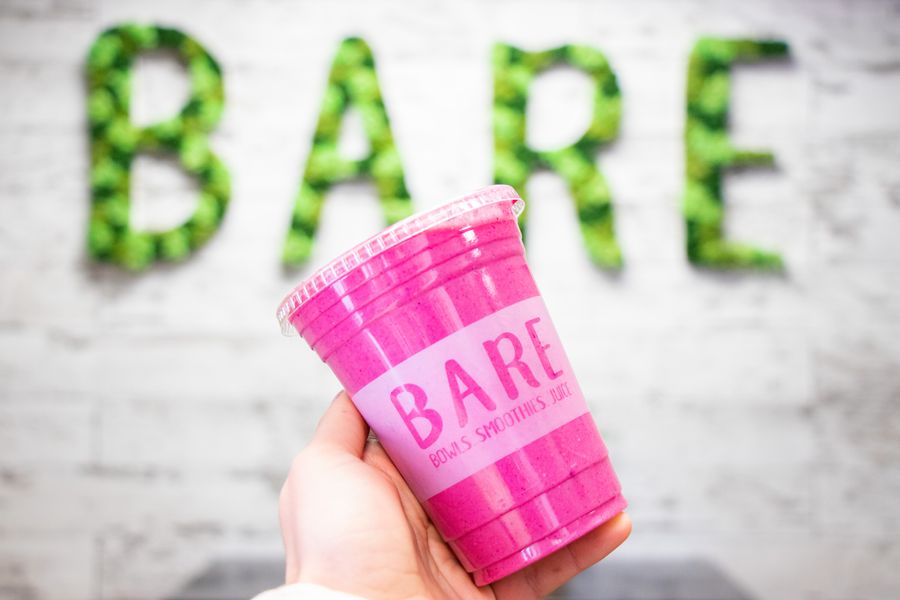 After
Harry's PBJ- High in protein, blueberries help ease muscle soreness, banana restores glycogen levels to rebuild damaged muscles.

Purple Haze- Includes almost every vitamin your body requires so it is a great way to replenish after a workout.
Full Nutrition Information
Click below to download a PDF with all of the nutritional information for the bowls and smoothies at our different locations.
what you eat matters
Eating plant-based foods has been associated with reduced cancer risk and overall improved health according to the latest report on diet and cancer, released by the World Cancer Research Fund and American Institute for Cancer Research.
Eating nuts and legumes as well as healthy whole grains (the good carbohydrates found in our food at BARE) is associated with a dramatic reduction in all cause mortality related to chronic diseases like heart disease, hypertension, cancer, diabetes, etc. Learn More.
Reduced Cancer Risk
Plant bioactives including fiber, sulfur compounds, carotenoids, and polyphenols are present in foods such as cruciferous and allium vegetables, tomatoes, green tea, and whole grains. Eating these foods have proven anti-carcinogenic properties which means that eating whole, plant based foods can reduce your risk of developing cancer. Learn More.
Quick Links to learn more