Sometimes our bodies need a little reset, and that's exactly what our juice cleanses can help you achieve. Cleansing helps detox your body while boosting your immune system and metabolism. Flushing everything out of your system allows you to absorb nutrients once food is reintroduced more effectively, helping your body rejuvenate and leaving you feeling your best.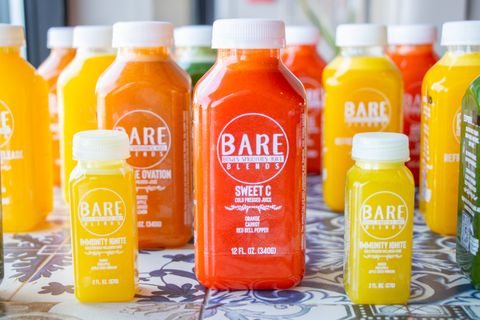 Immunity Boost Cleanse (2 days) $115
The immunity boost cleanse is for any customer looking to boost their immune system or reduce inflammation. This cleanse includes juices and wellness shots packed with vitamin C and other anti-inflammatory ingredients to help boost immunity. Customers should enjoy 6 juices per day and one of each shot per day.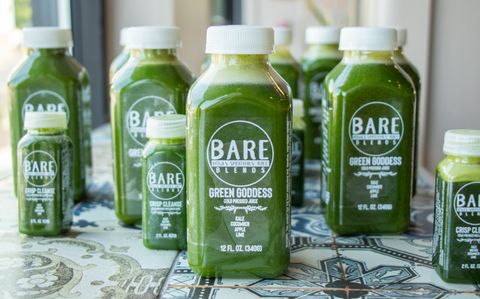 Clean Green Cleanse (2 days) $95
The clean green juice cleanse is for anyone looking to detox. Green juice provides the body with a variety of nutrients perfect for helping one cleanse and detoxify. Minerals like iron and calcium bind to toxins and help remove them from the body. This cleanse is perfect for anyone looking to cure a hangover or reset from a weekend of partying. Customers should drink 5 green goddess juices and 2 crisp cleanse shots daily.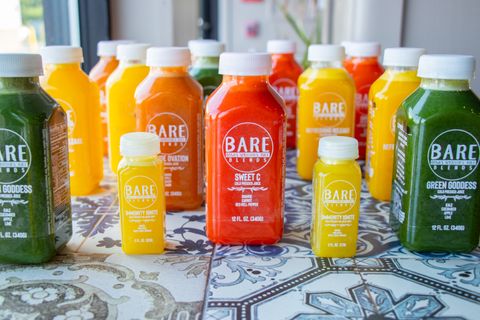 Total Reset Cleanse (3 Days) $135
The total reset cleanse is meant for those looking to reset their metabolism. The cleanse package provides a variety of juices made with ingredients to flush out toxins and help restore gut health and is perfect for a post holiday or vacation reset. Recommend this to a customer looking to start a new diet or fitness journey. Customers should drink 1 green juice each morning, followed by 4 other juices of their choice and one wellness shot.
Doing a cleanse and want to set yourself up for success? BARE is here to help. Follow the steps below to get the most out of your cleanse and enjoy all the benefits that come from packing your body with the nutrients it needs.
1- Drink your juice each day in this order: green, release, beet, immunity. Drink your juice of choice (except green juice) last. Have one juice every 2-3 hours.
2- Enjoy your wellness shots between your beet juice and immunity juice. You should be taking one wellness shot each day. The order in which you consume the shots does not impact their effectiveness.
3- You may eat fresh fruits and veggies in between your release juice and beet juice. We recommend consuming no more than one cup of fresh veggies and one cup of fresh fruit per day while cleansing. The goal is to give your body a break so try your best to not consume anything but the juices and water. Pro tip: Choose spinach, kale or broccoli for your vegetables because they are rich in protein.
4- If it is not a fresh fruit or vegetable, do not eat it. Dehydrated, dried, baked or fried fruits and veggies do not count. This also means no chewing gum or drinking coffee.
5- Do not drink anything other than your BARE Blends juice and water. This means no dairy products, no caffeinated beverages and no alcohol. If you need a little something after your last juice of the day, have herbal, non-caffeinated tea with fresh lemon and ginger.
6- Drink as much water as possible. If you're hungry, drinking water will help keep you satisfied.
Subscribe to our newsletter!